WE ARE ALL TRUCKERS
BFGOODRICH COMMERCIAL TRUCK TYRES ARE KNOWN FOR DURABILITY AND TRACTION FOR A REASON: IT'S PART OF THE BRAND'S HERITAGE
The BFGoodrich brand was born in America in 1870 with a passion for driving, and it has made its mark on the open road, the oval track, the dirt road and everywhere in between. This spirit of adventure continues to fuel the brand today, as BFGoodrich tires help commercial trucking fleets work hard so they can get home and spend time with family and friends.
Adrenaline is our fuel and competition is our playground! At 150 years young and with energy to burn, BFGoodrich is here to help you live your passion for the road to the max. A heavyweight tyre manufacturer straight out of the US, we've gone to Africa, to Asia, and now we're in New Zealand to hit some asphalt and spin some dust. We're here for the truckers who dare. For the ones who drive for miles on end, who get the job done, who have a pioneering spirit. So choose your playing field, choose the tyres for your rig, and get out there for the adventure and freedom you love.
TYRE INFO TO HELP YOU GET THE JOB DONE
Here it is. Everything you ever wanted to know about tyres from the ground up. How to choose a tyre. How to decide what you need in a tyre. How tyres are built. How to inspect your tyres. And much more. Read on and learn what you need to know to keep on rolling.
LEARN THE TYRE BASICS
EVERYTHING YOU NEED TO KNOW ABOUT TRUCK TYRES
Radial tyres have been around since the '40s. And over the years, innovations in tyre design and construction have continued to improve (even though, let's be honest, they're still black and round). But there is so much more to know about a tyre. Learn more about tyre basics below:
HOW TO READ A TYRE SIDEWALL
You can learn a lot from a tyre. Every number, letter and symbol on the sidewall of a tyre tells a story. And tyre size is just the beginning. In fact, a sidewall can display up to 25 different icons and descriptions. Download the diagram below to learn how to read them and how they can help you choose the tyre for your needs.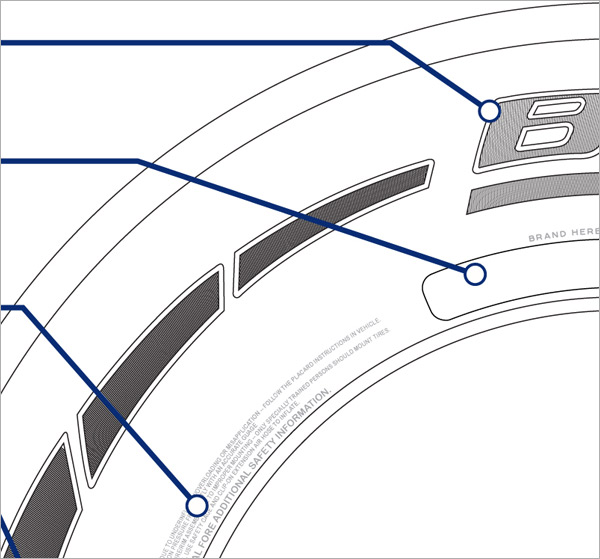 HOW TO READ TYRE SIZING
HOW TO READ DOT IDENTIFICATION
The Department of Transportation (DOT) marking is your tyre's identification number. Think of it as a birth certificate for your tyre. It shows the plant where your tyre was manufactured, along with the week and the year it was born.
MAKING SENSE OF ISO LOAD INDEX AND SPEED SYMBOL
The ISO* LOAD INDEX is a numerical code associated with the max load a tyre can carry at the speed indicated by its speed symbol (under service conditions specified by the tyre manufacturer). (Note: 1 kg – 2.205 lbs.)
The ISO* SPEED SYMBOL indicates the speed at which the tyre can carry a load corresponding to its Load Index (under service conditions specified by the tyre manufacturer).**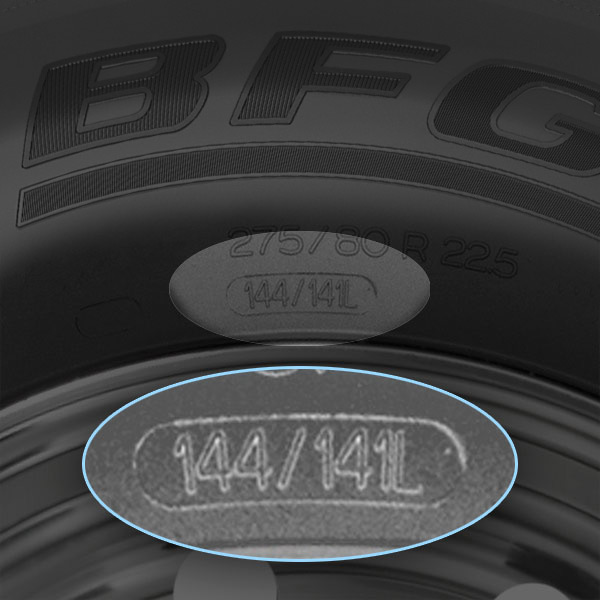 L = Speed Rating
144/141 = Load Index (ISO)
*International Standardization Organization**Exceeding the legal speed limit is neither recommended nor endorsed.
ONE TREAD DESIGN DOES NOT FIT ALL
Generally speaking, there are two basic types of tread designs. One is built for fuel efficiency; the other for increased traction. (Most BFGoodrich tyres deliver a blend of both.) Depending upon your vehicle needs and operational conditions, we can help you choose the right design.
LEARN HOW TO SELECT THE PROVEN TYRE FOR YOUR NEEDS
TYRE SELECTION TIPS
START HERE: WHERE WILL YOUR TRUCK GO?
Few choices impact your fleet's bottom line as much as choosing the correct truck tyres. And it all starts with where your truck will go (also known as "application"). The correct tyres can make a huge difference in traction, durability and fuel economy. (And the wrong tyre can do just the opposite.)
To find the perfect fit for your vehicle and your business, you can research by Position (Steer/All-Position Tyres, Drive Tyres or Trailer Tyres) or by Application (Highway, Regional, Urban, Coach/Bus, On/Off Road). Or if you don't know, you can search by size, and we'll do the hard work for you.
WHAT'S IN A TYRE NAME?
Much of what you need to know about a truck tyre can be found in its name. Look at the tyre name below (the BFGoodrich® DR444™ highway drive tyre) to understand how tyres are named and how they work.
KNOW YOUR TYRES: THE DIFFERENCES BETWEEN STEER/ALL-POSITION TYRES, DRIVE TIRES & TRAILER TYRES
BFGoodrich truck tyres are built to achieve max uptime for your business. This starts with building durable tyres for each wheel position on a rig. Learn the differences between every tyre position and see how BFGoodrich truck tyres can help you make every single kilometer count with superior traction and durability.
KNOW YOUR APPLICATIONS: THE DIFFERENCES BETWEEN HIGHWAY, REGIONAL AND MORE
Not sure what application best describes your usage? Choose an application from the diagram below before selecting your truck tyres. Just to be sure. This way, you can find the correct, proven BFGoodrich® tyres for your fleet and maximize your investment.
BFGOODRICH TRUCK TYRE NEWS